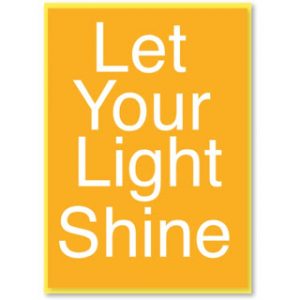 The 2016 election cycled has wrung many of us out.  The results have surprised nearly all and motivated many to become more aware and active in our public lives.  Some have joined protests, walked in marches, shouted and waved slogans at rallies, phoned and written and visited their public servants – and a few have seriously considered running for elected office close to home.  All of us need to talk about what we think and feel about what this new day in our nation means to us – filled with uncertainty and opportunity.
So – I've started Let Your Light Shine Tuesdays – brownbag dinner at North Church, 6:30 to 7:30.  We gather the 1st, 3rd and 4th Tuesdays (I'm busy on the 2nd) to face the day together – and to encourage each other to speak up and act out in ways and places that we're passionate about.
On February 28 we are participating in the nationwide effort "The Ides of Trump" postcard campaign – to write postcards to President Trump – whatever you need to say to him – and send them off so that he receives thousands and thousands of cards on March 15.  We have postcards and postage – we welcome your passion.  And every Tuesday after, we'll have more postcards to send to other public servants. 
Let me know you're coming, or just show up with your passion.  Join in – let your light shine!
Rev. Eric Williams, Senior Pastor
North Congregational UCC
2040 West Henderson Road
Columbus, OH  43220
Let Your Light Shine Tuesday gathering on February 28, 2017.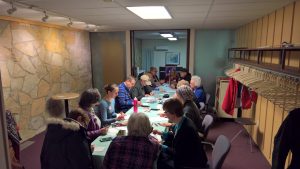 Ten members of North Church and five neighbors (new friends!) who read about our post-card signing party showed up to write over 100 cards – most to President Trump, and many to our national and state legislators.  The notes on the cards were deeply personal, reflecting concerns for family, students, colleagues, communities and the environment – and to-the-point, asking our elected representatives to seriously consider our needs and holding them accountable for their commitments and actions.
We'll gather each Tuesday, 6:30 to 7:30 through March. Bring something to eat – we have coffee, tea and more to drink – and join in lively conversation and more post-card sending!
Hope to see you,
Pastor Eric