November Faith and Film Night:  Arrival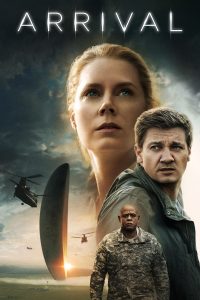 By Mark Grimsley
In most science fiction films, the audience knows what it means when extra-terrestrials arrive on Earth.  It means trouble.  Big trouble.  And that's exactly the fear of most governments when twelve gigantic, lozenge-shaped space ships appear in locations all over the globe.  What do the beings inside want?  There's no way to know without learning how to talk to them.  And that's the problem at the heart of Arrival.
To solve it, the U.S. government turns to world-class linguist Dr. Louise Banks (played by Amy Adams), who is assisted by physicist Ian Donnelly (Jeremy Renner).  The government is wary about the aliens' intentions.  But it is more afraid of what may happen if another country learns to communicate with the aliens first.  What if China or Russia makes a breakthrough with the aliens first and uses what it learns against the United States? What if shots are fired, bringing alien wrath down upon the whole globe?  From her first, tentative encounters with two aliens (who are only dimly visible), Banks develops confidence that the reasons behind their visit are benign.  But other governments, particularly China, are moving toward the opposite conclusion, and Banks's quest for a linguistic breakthrough becomes a race against time.
Superbly directed by Denis Villeneuve, Arrival is a meditation on the problem of communication across a wide chasm that also poses important questions about the universe, being, time and space.   Critics were almost unanimous in their praise for the film, with many ranking it among the best films of 2016.
Arrival, rated PG-13 for some gun violence and occasional profanity, will be shown in the Rainbow Room on Friday, November 10, at 7 pm, with a Video Descriptive Service audio track available for those who may need it.  Refreshments will be provided.  If you would like to attend and need childcare, contact Jo Anne Nay at janay22@sbcglobal.net