David Bennett, Minister of Music
Lexi Burcham, Childcare Provider
Childcare. As part of North Church, she enthuses babies in the nursery while parents or caregivers enjoy the service on Sunday mornings as well as during the week by request. She works closely with congregation members to best tend to the diverse and ever changing needs of their little ones. Her Associate of Arts degree from Columbus State Community College in tow, Alexis currently attends The Ohio State University studying art education with a passion for encouraging creative expression.
Laura Gaines, Moderator
Laura provides leadership with the administrative council of the church. This role is held for a year and is elected by the congregation.
Roger Holmes, Organist

Since 1990 Roger has enriched worship services at North Church with quality organ and piano music as well as accompanying the Chancel Choir, frequent soloists and special ensembles/groups.  A valued team member, Roger sees music ministry within the context of the larger church's ministries.  His music history includes piano lessons at age seven, organ lessons at Syracuse U. while in high school, organ-piano major at SUNY-Potsdam and church organist positions since.  His primary career was College/University Student Personnel Services, most recently at Wright State-Dayton.  His graduate degrees were earned at Indiana U.-Bloomington.  Private piano students, gardening, good TV/movies, genealogy and family are other interests/pursuits.
Jo Anne Nay,  Minister for Equipping the Saints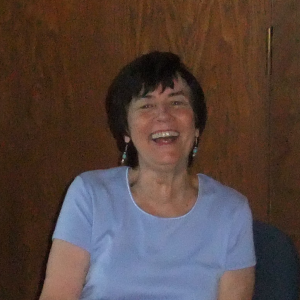 Which means each person is given one or more spiritual gifts to make God's love known in the world.  She works with individuals and groups to empower them to name, claim and use their gifts.  A graduate of Union Theological Seminary in New York City, she has served the congregation since 2007.  Otherwise known as mother, grandmother, artist and lover of books.
Joanna Samuelson, Pastoral Intern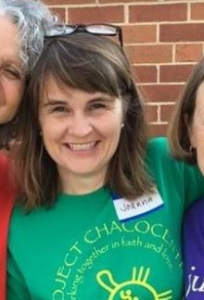 In Joanna's part-time role at North, she enjoys planning and leading worship as well as co-leading our Caring Ministry team.   One of the highlights of this year for her is co-teaching our current confirmation class – a group of thoughtful, creative and engaged middle schoolers.
Joanna is in the last year of the Master of Divinity program at Trinity Lutheran Seminary, here, in Columbus.  She received a Master of Social Work degree from the University of Michigan in 1992 and has a professional background in both community mental health and hospital settings.   Currently, she has a small spiritual direction practice.  When Joanna is not at church or in class, you will find her with her favorite people:  her husband, Shane Gillies, and their children, Martin, Ingrid, Emmett, Malcolm and Henry.
Eric Williams, Pastor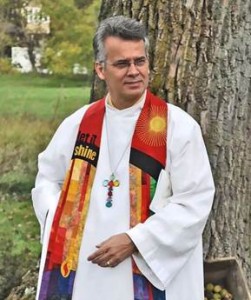 Eric leads weekly worship, where the congregation gathers to celebrate God's love together.  Children's Time is one of his (and all of our) favorite parts of the worship service.  He also provides pastoral care, teaches theology, hosts small groups, equips members for their ministry and serves the wider church.
Eric is a 1984 graduate of Trinity Lutheran Seminary in Columbus, has served other congregations in Ohio and as a hospice chaplain.  He was called as Senior Pastor to North Church in 2002.  He is husband to Leslie Kern and father of 4 grown children.  He is a lifelong enthusiast of church choirs, church camps and community theatre.
Here's what Eric says about being at North:  One of our mottos here is "North Church – a place just for you, a just place for you." This has personal meaning for me – I continue to experience North Church as a faith community that welcomes me just as I am, a safe place where I can hurt and heal, recover and recommit, discover and discern who I am, what I need and what I can offer as a gifted child of God.  North Church is also a meeting place for followers of Christ – who join together to welcome and serve our neighbors – who stand up and speak out for justice in our lives, in our communities, in our nation and world – we're truth tellers and justice doers – embraced and equipped at North Church.  I'm a loved and supported Christian here.  I'm so glad – and grateful – to call it my church home."